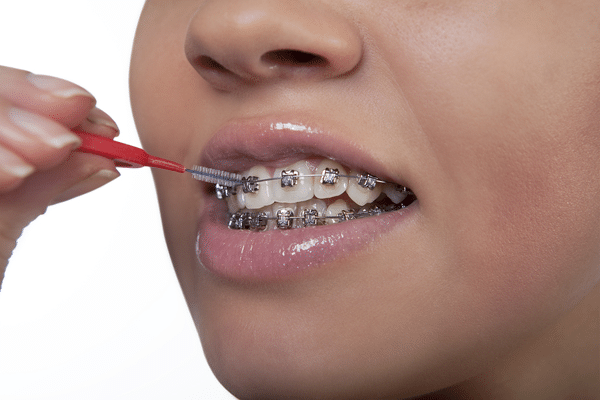 Dr. Sophia Scantlebury and the team at Scantlebury Orthodontics near Brooklyn, NY can't stress enough the importance of maintaining good oral health by brushing and flossing your teeth while wearing braces. Twice a day might not cut it for braces wearers. You might have to up the ante to after every meal. Whatever the case may be, excellent oral care will only result in the best treatment outcome.
Brushing and Flossing While Wearing Braces
During orthodontic treatment with Scantlebury Orthodontics, not only is it important to brush your teeth multiple times a day, but also to brush them the correct way. To get the best brushing results, make sure you brush your teeth and braces from every angle:
When brushing your braces on and around your top teeth, make sure to brush them with the toothbrush angled downward
When brushing your braces on and around your bottom teeth, make sure you brush them with the toothbrush angled upward
This helps to ensure that each tooth, and every part of the tooth, gets completely clean. These techniques will also improve your brushing skills and give you a better cleaning treatment each time you brush.
Flossing is a necessary (even if it's a bit more awkward and difficult) and important step toward optimal oral health and the best orthodontic treatment outcome. Here at Scantlebury Orthodontics, we recommend that patients with braces wear a waxed floss. To be certain you are flossing effectively, remember these tips:
Thread the floss under the wire before passing the string between the teeth
Rub the waxed floss up and down each surface of the tooth and don't skip cleaning each and every gap
Weave the floss through the individual gaps between the teeth (Note: no blood should be seen. If you see blood, you may need to floss a little more gently.)
Be sure to massage the gums with your toothbrush during brushing
Finish things off with a good and thorough mouthwash rinse
Both brushing and flossing your teeth properly are crucial steps during orthodontic treatment with braces. You've already spent a lot of money on your braces to straighten your teeth and improve your smile. So why not maintain your oral health to ensure you get a healthy, beautiful smile? Brackets and wires trap food easily, and if you don't brush and floss frequently plaque and tartar buildup may occur. This can lead to serious, unwanted complications during your orthodontic treatment such as:
Swollen gums
Cavities
Permanent stains on your teeth
Yellowed teeth, and
Bad breath
Dr. Scantlebury stresses that cleaning your mouth, teeth, and braces effectively is an important part of your orthodontic treatment. If you don't put the effort into your cleaning regimen while you are wearing braces, you may not get the outcome that you were hoping for: a clean, healthy, straight, white smile. If you're in the Brooklyn, NY area, and are considering braces look no further than Scantlebury Orthodontics! Contact us today!
---
Dr. Sophia Scantlebury and the team at Scantlebury Orthodontics are experts in braces. If you have any questions pertaining to Invisalign, Invisalign Teen and clear ceramic braces in the 11238 zip code area: Brooklyn, Prospect Heights, Prospect Park, Grand Army Plaza, Park Slope, or Brooklyn Heights, NY, or would like to schedule a complimentary consultation with Dr. Scantlebury, contact Scantlebury Orthodontics at: 718.230.5046