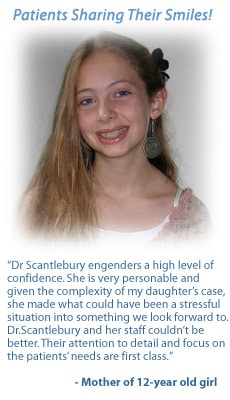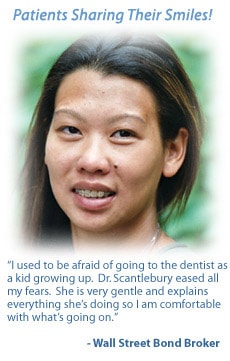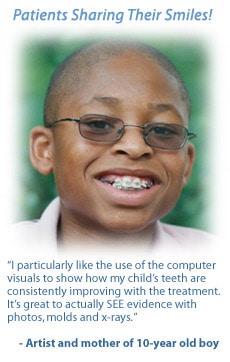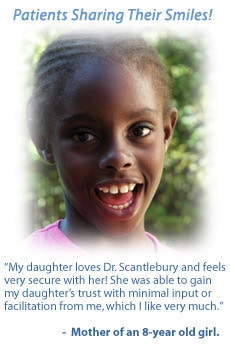 Dr. Scantlebury engenders a high level of confidence. She is very personable and given the complexity of my daughter's case, she made what could have been a stressful situation into something we look forward to. Dr. Scantlebury and her staff couldn't be better. Their attention to detail and focus on the patients' needs are first class.
– Mother of 12-year old girl
---
I used to be afraid of going to the dentist as a kid growing up. Dr. Scantlebury eased all my fears. She is very gentle and explains everything she's doing so I am comfortable with what's going on.
– Wall Street Bond Broker
---
I particularly like the use of the computer visuals to show how my child's teeth are consistently improving with the treatment. It's great to actually SEE evidence with photos, molds and x-rays.
– Artist and mother of 10-year old boy
---
My daughter loves Dr. Scantlebury and feels very secure with her! She was able to gain my daughter's trust with minimal input or facilitation from me, which I like very much.
– Mother of an 8-year old girl
---
Dr. Scantlebury's passion for her profession and empathy for her patients are evident in the care she takes in providing treatment. It has been several decades since I had braces as a child and I truly appreciate the great advances that have been made in orthodontics. The materials and procedures used ensure the best results with minimum pain or inconvenience. Dr. Scantlebury makes it chic to be an adult with braces!
– Bank Vice President
---
My experience with Dr. Scantlebury and her staff was excellent. They are professional, organized and on time. She and her staff are warm and caring. The offices are extremely clean, spacious and well designed, with all the newest technology.
– Mother of 10, and 7, year old boys
---
I am always greeted and treated with the highest quality and care. Dr. Scantlebury has proven to be a highly skilled professional who manages to treat patients with care and understanding.
– Mother of 21-year old boy
---
We are grateful we've found a practice with the right combination of loving care and expert skill. We can't imagine a better person to do our child's orthodontics.
– Graphic artist and mother of 12-year old girl
---
Dr. Scantlebury's understanding and insight into my goals were perfect!
– Writer
---
Unlike other offices I've visited, Dr Scantlebury's staff is always very friendly, pleasant and so professional that it makes me feel very comfortable. And waiting is extremely short.
– School administrator and mother of 12-year old boy
---
I appreciate Dr. Scantlebury's honesty and clarity. She always provides opportunities to ask questions and we receive clear and satisfactory answers. My son and I are very grateful for Dr. Scantlebury's treatment. The results definitely improved my son's self esteem and smile.
– Mother of 11-year old boy