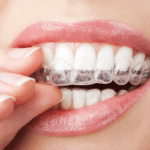 African American Orthodontist, Dr. Sophia Scantlebury, and the professionals here at Scantlebury Orthodontics know that their Park Slope NY patients have full, active lives. It's easy for one to lose their keys, their wallet, or their phone, and because of the convenient, removable aspect of Invisalign clear aligners, it can also be easy to lose them too!
3 Options If You Lose Your Invisalign Trays
The perks of Invisalign Teen. If you are a teenager undergoing treatment with Invisalign Teen, remember that we here at Scantlebury Orthodontics offer patients up to 6 free replacement aligners.
Use your old aligners as a retainer. It's possible for patients to use their previous set of aligners as a sort of retainer to prevent teeth from moving back into their incorrect positions while you wait for your new set, and we at Scantlebury Orthodontics recommend saving the previously used aligners for this exact reason.
Simply wait it out. It won't be long before your new aligners can be worn and you're back in the groove of things! We at Scantlebury Orthodontics recommend that patients wear a new set of aligners every week.
Orthodontic treatment with Invisalign is not inexpensive or casually undertaken, and losing an appliance needed for treatment can be stressful and alarming, but there are solutions. If you lose track of your aligners please be sure to contact Dr. Scantlebury and the Invisalign experts here at Scantlebury Orthodontics near Park Slope NY immediately.
---
African American Orthodontist, Dr. Sophia Scantlebury and her team at Scantlebury Orthodontics are experts inInvisalign®. If you have any questions pertaining to Invisalign®, Invisalign Teen®, braces and/or clear braces in the 11238 zip code area: Brooklyn, Prospect Heights, Prospect Park, Grand Army Plaza, Park Slope, or Brooklyn Heights, NY, or would like to schedule a complimentary consultation with Dr. Scantlebury, contact Scantlebury Orthodontics at: 718.230.5046