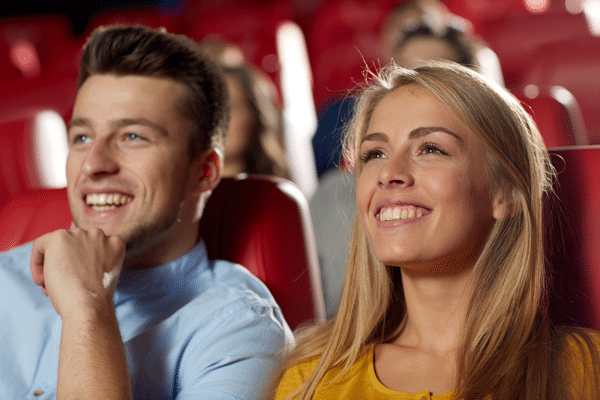 Dr. Sophia Scantlebury and the professionals at Scantlebury Orthodontics near Park Slope, NY know that a first date is an exciting, stressful, and self-conscious life event. The idea is to make the best first impression possible, and that's not always easy when orthodontic issues or treatments are involved. And that's why we at Scantlebury Orthodontics offer orthodontic treatment with Invisalign.
Life With Invisalign
⁃ No food limitations. When you go out to a restaurant with someone on a date, you want to be able to choose from everything on the menu.  Braces bring limitations because you cannot have sticky, chewy, or hard foods. Seeming fussy or critical of the menu items can give your date a bad impression. Treatment with Invisalign requires no food restrictions; you just discreetly remove your aligners before eating.
⁃ No complex parts. Nothing is more embarrassing than having food stuck in your teeth. With braces, there are even more places where food can get stuck including (but not limited to): under the wires and between the brackets. The Invisalign system eliminates metal parts.
⁃ No chance of breaking.  A variable to contend with while wearing braces is that they could break at an inconvenient moment. Braces can also cause irritation to the soft tissues of the mouth. Eating the wrong food or biting down the wrong way can damage braces causing the function of the braces to lose their integrity. Invisalign is made of a thermoplastic material and there are no pieces that could break in your mouth.
⁃ Soft warm kisses.  Invisalign is molded to the unique shape of your teeth and they fit snugly. While they should be removed for eating, they are snug-fitting and invisible, and can stand up to the scrutiny of a good-night kiss. And we've all seen the sitcom situation of two teens locked at the lips because of their enmeshed braces.
⁃ More self-confidence.  Because braces can be bulky and noticeable, some people become more self-conscious while wearing them. Invisalign is a made of a clear plastic material and appears invisible while being worn. That means your date might not even know that you are wearing an orthodontic appliance, and your intact self-confidence will allow you to be yourself, letting your date fall for the real you.
With Invisalign our patients in the Park Slope, NY area can go into their first date with self-confidence and poise. For more information on the benefits of Invisalign, or to make an appointment with Dr. Scantlebury, please contact us today!
—
Dr. Sophia Scantlebury and the team at a Scantlebury Orthodontics are experts in orthodontia. If you have any questions pertaining to Invisalign®, Invisalign Teen®, braces and clear braces in Park Slope, NY, Brooklyn, NY, Grand Army Plaza, NY, Prospect Park, NY, and Prospect Heights, NY, or would like to schedule a complimentary consultation with Dr. Scantlebury, contact Scantlebury Orthodontics at: 718.230.5046