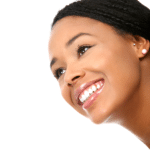 If you're searching for an African American orthodontist in New York, you probably asked around, and one name that most likely came up is Dr. Sophia Scantlebury. Dr. Scantlebury is an African American orthodontist located in Brooklyn NY, with a reputation for being the best when it comes to orthodontics in New York, but our patients here at Scantlebury Orthodontics say its these four things that really put her at the top:
She's atheistically oriented: Dr. Scantlebury appreciates beauty, aesthetics, and looking good, and furthermore she sees possibilities for her patient's smiles
She's sensitive: appearance can be hard to talk about for some of our patients, and Dr. Scantlebury has a sensitive approach to our patient's feelings, making them feel comfortable to talk about their appearance and their teeth
She's patient: both with the long process of orthodontics and patients
She's detailed oriented: Dr. Scantlebury has a personality that is highly focused on details, and she's a perfectionist by nature
If your current orthodontist doesn't have these characteristics, or if you're just beginning your search for an African American orthodontist in New York, you may want to consider Dr. Scantlebury here at Scantlebury Orthodontics. Contact us today!
---
African American Orthodontist, Dr. Sophia Scantlebury and her team at Scantlebury Orthodontics are experts in orthodontia. If you have any questions pertaining to Invisalign®, Invisalign Teen®, braces and/or clear braces in the 11238 zip code area: Brooklyn, Prospect Heights, Prospect Park, Grand Army Plaza, Park Slope, or Brooklyn Heights, NY, or would like to schedule a complimentary consultation with Dr. Scantlebury, contact Scantlebury Orthodontics at: 718.230.5046